History of Ceylon tea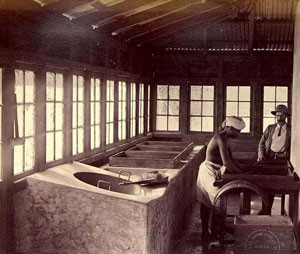 "Not often is it that men have the heart, when their one great industry is withered, to rear up in a few years another as rich to take its place, and the tea fields of Ceylon are as true a monument to courage as is the lion at Waterloo" – Conan Doyle. By 1880, the hitherto thriving coffee industry in Ceylon had been ravaged to virtual non-existence by the blight. Nearly quarter of million acres of coffee plants were uprooted and the tea (Camellia Thea) plant was accorded its pride of place instead. Thus began the great Ceylon tea industry.This tea saga of Ceylon begins with tea seeds and young tea plants of the Assam jat imported from the Botanical Gardens in Calcutta, being experimentally planted in the Peradeniya Botanical Gardens near Kandy in 1839. In addition, a handful of more enterprising coffee planters too had cleared the odd half acre and planted it with tea. Being chiefly concerned with lucrative coffee, planters in general had no time for tea and those experimental plots too were forgotten in time for some thirty years. However, tea did grow. Moreover, it was noted that tea grew well in the hills of Ceylon.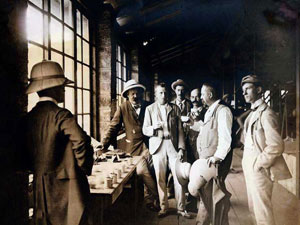 However, the first commercially planted tea happened in 1867 at Loolecondera estate by a Scotsman named James Taylor when coffee industry was being severely plagued by the blight. The first recorded shipment of tea came five years later in 1872 with the export of 23 pounds, valued at 58 rupees. The first vessel recorded as carrying Ceylon tea to England was the steam-ship 'Duke Argyll' in 1877.
Economically devastated by the coffee leaf disease by the early 1880's, coffee planters stampeded into tea, which was then fast gathering momentum. Experienced tea makers and cultivators from China and India were freely given to planters in Ceylon. To meet the unmanageable demand for tea plants, seeds were imported from Assam , and to a lesser extent China , which were natured in tea nurseries in several suitable locations.
Ceylon tea grows from almost sea level to 7000 ft. The climate of Ceylon (now Sri Lanka) varies very much according to locality, and, has a marked effect on the flavor and quality of tea.